Note: Tuesday night is archery night at Dunham's Bay Fish & Game Club. Both the indoor and outdoor ranges have been redesigned for 2019. Enjoy! 
---
Archery at Dunham's Bay Fish & Game Club is under the leadership of Chairman, Patrick Beland. There is an Archery field and a practice / targeting station has been built with 3D targets and an available archery tower. Early in the summer of 2017, the range was redesigned to included the popular Rinehart 3D targets.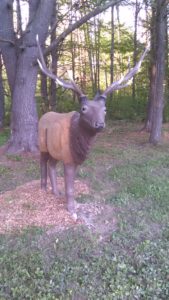 INDOOR ARCHERY / RANGE RULES
Range is open and reserved for archery shooting Tuesday evenings from 4-9 pm. A indoor league will be run within this time during the winter months (January – March). You do not have to shoot in the league. You may shoot indoors at other times as long as it does not interfere with other club activities (meetings, classes, etc….)
All indoor shooters should sign-in on a sheet provided by the coffee table.
Distances are marked at 10, 15 & 20 yards.
Absolutely no broadheads are to be used indoors.
Shooting is to take place only on the south (right) side of the indoor range.
Shoot at targets only. The wall is only a backup and is very difficult to pull arrows out of.
No more than four shooters on the line at time, which is one shooter for each cube.
All persons present must remain BEHIND the shooting line while shooting is taking place.
When three or more shooters are present one shooter must act as as Range Safety Officer to insure that safe shooting takes place.
Crossbow Shooters: You may find a bag target easier to pull arrows/bolts out of than than the compressed targets.
Please pick up after yourselves and leave the club as you found it. Turn off the lights and if you adjust the heat be sure to set it back to 50-55 degrees F*.
OUTDOOR ARCHERY RANGE RULES
The outdoor archery field has a practice / targeting station and allows shooting at distances up to 50 yards or more. This should be fine for ample shooting practice. Please be careful and mindful of gun shooters using the shooting benches when venturing beyond that target location and gun shooting line to look for arrows. No broadheads are allowed on the 3D targets. There is a special "cub" style target for broadheads.
Have fun, shoot straight and be safe!