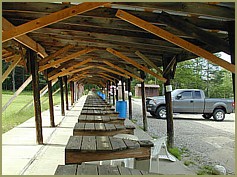 Welcome to the Club
Dunham's Bay Fish and Game Club is a private shooting range open only to members for shooting rifle, shotgun, pistol, muzzleloaders and archery tackle (including crossbow). We do not allow public access to the range, nor do we stock or rent firearms for public use. We do allow our facilities to be used for educational purposes including NYS 4-H Shooting Sports, Johnny Appleseed, CMP and other community related firearms associated training programs.
The Club is located in Queensbury, NY just minutes from Glens Falls, Lake George and Exit 20 of the I87 – The Adirondack Northway.
The club meets monthly on the second Wednesday of each month (except July) at 7 p.m.. Each meeting begins with the Pledge of Allegiance to our American flag and the reading of the Second Amendment. We hope you will join us at a future meeting.
We currently have approximately 650 members and welcome responsible shooters interested in joining to review this site, especially the JOIN page.
Whether you wish to "sight-in" or spend the day shooting; the Dunham's Bay Fish and Game Club is the place to be!