The Civilian Marksmanship Program (CMP) promotes firearms safety training and rifle practice for all qualified U.S. citizens with special emphasis on youth. The CMP operates through a network of affiliated shooting clubs and associations that covers every state in the U.S. The clubs and associations offer firearms safety training and marksmanship courses as well as the opportunity for continued practice and competition.
The Dunham's Bay Fish & Game Club is an affiliated shooting club of the CMP. Check back for date of next CMP shoot.
Past years event was heavily attended and all shooters had a wonderful time! First concern is on safety, of course and there were plenty of range officers assistants to assure that all followed proper shooting safety procedures.
Why shoot in this event?
1) Learn additional safety procedures for range shoots and your weapon.
2) Obtain additional shooting experience with your weapon.
3) Meet other people who share a love of military-caliber weapons.
4) Support your club and the CMP!
5) You will receive your CMP qualifier certificate and also qualify to purchase an M1 Garand rifle from the CMP.

This shoot is for all ages and skill levels and guaranteed to be FUN! You are invited to join-in on the shooting fun, even if you have previously received your certificate. Recent policy changes with the CMP have made you eligible for additional M1 Garand rifles!
Shooters will provide the following:
1) Rifle (bolt or semi-auto) in a military caliber such as a .308, .223, 7.72 x 39, 7.62 x 54, 30 carbine, .30-06 etc,.and rifle must be able to be loaded with at least 5 rounds at a time (stripper clip, box magazine, clip, etc)
2) Safety glasses and hearing protection
3) Ground sheet, blanket or shooters matt
Not allowed: Spotting scopes, telescopic scopes, any type of alternative sighting system, coaches. This is OPEN SIGHTS ONLY!
***10 ROUND LIMIT IN ALL MAGAZINES***
The Shoot
All targets are at 100 yards distance.
5 sighting shots in 5 minutes allowed in prone position.
Slow fire standing 10 shots in 10 minutes.
Rapid fire sitting or kneeling 10 shots in 70 seconds.
Rapid fire prone 10 shots in 60 seconds.
Slow fire prone 20 shots in 20 minutes.
Bring 55 rounds of ammo (and a few extras).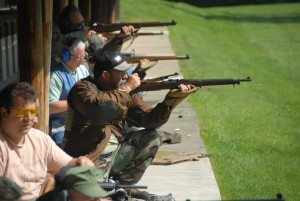 It must be stressed that this is not a competition. Your scores will not "count". Only your participation is needed to achieve your certificate. Whether you are a novice or an "Old Pro", you are welcome!
There is a non-refundable range fee for this event of $25.00 per shooter.
You may also register to participate by printing a registration form after the date has been announced; and then mailing it with your $25.00 fee. One form per person.
Visit: http://www.odcmp.com/